Nicholas Thadaney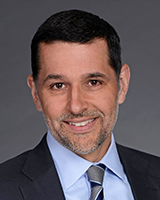 President and CEO, Global Equity Capital Markets
Nicholas Thadaney is President and Chief Executive Officer, Global Equity Capital Markets, TMX Group, and a member of the senior management team. Mr. Thadaney is responsible for all of TMX Group's equity listing and trading activity across the company's equities markets and alternative trading systems, including Toronto Stock Exchange, TSX Venture Exchange and TSX Alpha Exchange.
Mr. Thadaney has extensive business, leadership, and client development experience, as well as a strong commitment to developing superior value propositions from the perspective of the market and TMX Group clients, both in Canada and globally.
Prior to joining TMX Group in 2015, Mr. Thadaney was Chief Executive Officer of ITG Canada Corp. since 2005, with responsibility for managing all aspects of the business, as well as a Member of ITG's Global Executive Committee. Previously, he was Director of Sales and Trading of ITG Canada's Institutional Equities business from 2000 to 2005. Before his tenure at ITG, Mr. Thadaney was Vice-President, Business Development (Equities) at C.T. Securities Inc., which was later acquired by T.D. Securities Inc. in 1999. He is also a member of several industry associations and registered charities, including the Investment Industry Association of Canada, the Young Presidents Association (Ontario Chapter), the Redwood Shelter, and others.
Mr. Thadaney earned a BA in Economics from York University in Toronto, Canada.