Luc Fortin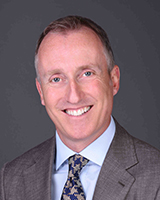 President and Chief Executive Officer, Montréal Exchange
Luc Fortin is President and Chief Executive Officer of the Montréal Exchange (MX). His key responsibilities include leading the growth and overall operations of TMX Group's commodities businesses. As well as MX, Mr. Fortin oversees NGX, a leading North American energy exchange and central clearing counterparty (CCP) as well as Shorcan Brokers Limited, a TMX fixed income interdealer broker.
Mr. Fortin joined MX as Managing Director, Derivatives Trading in June 2016, following a 25-year career in Canada's capital markets industry leading client-facing teams in fixed income and derivatives. Prior to joining MX, he served as Managing Director, Canadian Head of the Institutional Client Group at HSBC Bank Canada. In this role, Mr. Fortin led HSBC's institutional client-facing businesses in rates and credit, derivatives, foreign exchange and money markets across Canada. Prior to HSBC, he held senior leadership positions at TD Bank and TD Securities.
Mr. Fortin is a graduate of the TD Securities Leadership program at Ivey Business School and holds a Bachelor of Commerce from University of Ottawa. He has served as Board Chair of CANMarket Data and was an Investment Industry Association of Canada board member from 2006-2010.