Jay Rajarathinam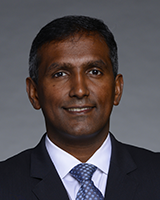 Chief Operating Officer, TMX Group
Jay Rajarathinam is Chief Operating Officer, TMX Group and a member of the TMX Group Executive Committee.
Jay is responsible for the development and execution of the overall technology and integrated operations vision and enterprise strategy for TMX, focusing on enabling business growth through technology, innovation and optimizing operations. Jay's mandate also includes the oversight of TMX Datalinx, the enterprise's data division, with a focus on leveraging analytics and technology to design and deliver new client-centric, data-driven solutions and capabilities, and assess new growth opportunities.
Since joining the organization as Chief Information Officer in July 2016, Jay has helped TMX to take important strides as a technology-driven solutions provider. In February 2019, he was named President of CDCC and CDS, TMX's cash and derivatives clearing businesses. Jay's responsibilities in leading Canada's equities fixed income and derivatives clearinghouses businesses included strategic planning and execution as well as overseeing day-to-day technology operations and incident management.
Mr. Rajarathinam has more than 20 years of financial services technology experience and has managed global teams across a wide range of infrastructure and application domains, including trading, clearing, e-commerce, security and surveillance systems, and networks. Prior to joining TMX Group, he served as Senior Vice President, Global Head of Infrastructure at NYSE/Intercontinental Exchange.
Earlier in his career, Mr. Rajarathinam held senior technology leadership positions at Barclays and at Wells Fargo. Mr. Rajarathinam holds an MS in Computer Science from the University of Illinois and an MBA in Finance and Strategy from the University of Chicago.