Shaun McIver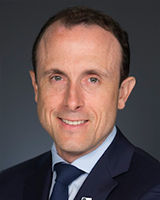 Chief Client Officer, TMX Group
Shaun McIver is Chief Client Officer of TMX Group.
He is responsible for leading a unified and digitally driven approach to marketing, communications and client engagement strategies across the enterprise. Mr. McIver joined TMX in 2016 as Chief Client Officer, Equity Capital Markets, managing global sales and business development for the Capital Formation and Equity Trading businesses.
Prior to TMX, he served as global head of the Digital Media Solutions business at Nasdaq, which provided cloud-based investor communications services to clients in over 60 countries. Mr. McIver previously held global business and commercial leadership roles at Thomson Reuters. He also co-founded and served as CEO of Streamlogics, a technology firm which was acquired by Thomson Reuters in 2009.
Mr. McIver holds a Bachelor of Arts Degree from the University of Western Ontario. He currently sits on the board of directors of Toronto Finance International.