Mary Lou Hukezalie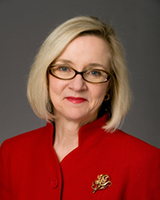 Senior Vice President, Group Head of Human Resources
Mary Lou Hukezalie is Senior Vice President, Group Head of Human Resources, at TMX Group. Ms. Hukezalie joined TMX Group in January 2010. She is responsible for all Human Resources programs across the enterprise, as well as Employee Communications and Translation. She is also a member of the Executive Committee.
From 2005 to 2009, Ms. Hukezalie held positions at the Canadian Imperial Bank of Commerce (CIBC). She began as Vice President of Executive Resourcing. Within a year, her mandate expanded to include Executive Review, Workforce Planning and Workforce Analytics. As a member of the Human Resources Executive Committee, she was also an active participant in the development and execution of several strategic Human Resources initiatives which were focused on enabling CIBC to grow in operational excellence and achieve its vision of being a leader in client relations.
Prior to joining CIBC, Ms. Hukezalie was at Bank of Montreal (BMO) for more than two decades. In her time at BMO, Ms. Hukezalie held more than 20 roles which spanned every Human Resources discipline and most businesses of the Bank, including its U.S. operations at Harris Bank. As a leader in transformational change, Ms. Hukezalie became the first person appointed to an executive level as a Human Resources business partner at the bank. She went on to lead a number of important initiatives that were focused on the bank's human capital strategy and the development of a high performance culture.
Ms. Hukezalie completed her Executive MBA at the Ivey School of Business as an Ivey Scholar. She also completed an undergraduate degree from York University in French and Economics. She lives in Toronto with her family.