TMX POV - New Prospectus Exemption for Listed Issuers 'Bridging the Gap' to Retail Investors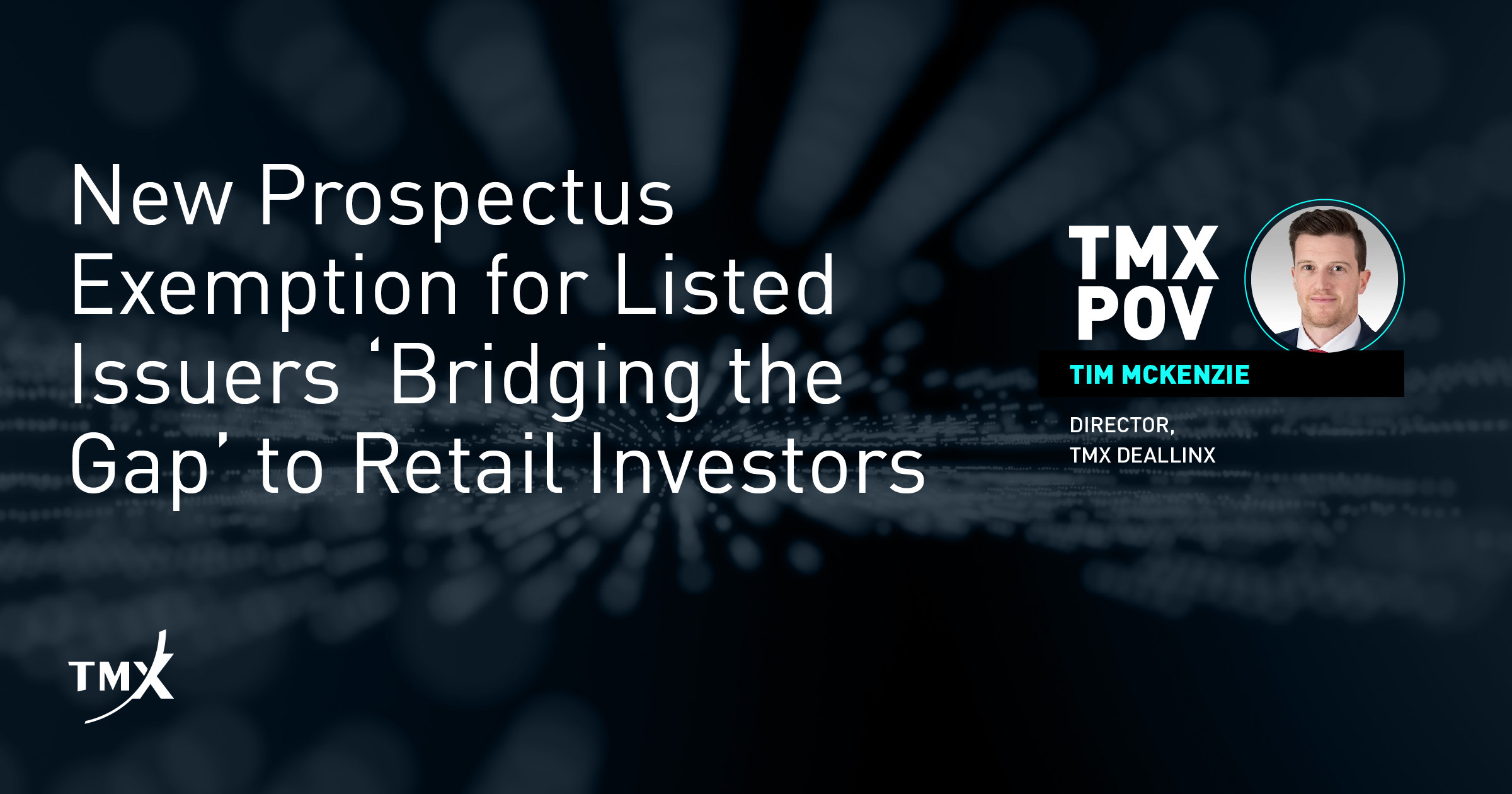 The Canadian Securities Administrators recently announced a proposed new prospectus exemption which will provide reporting issuers listed on a Canadian stock exchange with a means to raise equity capital without the need to file a prospectus. Known as the Listed Issuer Financing Exemption (the "Exemption"), it will take effect on November 21, 2022 by an amendment to National Instrument 45-106 - Prospectus Exemptions, subject to necessary approvals.
With eligible issuers able to bypass prospectus requirements, the Exemption will reduce costs for issuers raising smaller amounts of capital, allowing smaller issuers greater access to retail investors and providing retail investors with a broader choice of investments. The Exemption will rely on the issuer's continuous disclosure record, in addition to a short offering document, to provide issuers with a more efficient way to access the public markets and raise capital. Securities issued under the Exemption will be freely tradeable at the time of issuance (subject to certain restrictions), without a hold period.
Issuers qualifying for the Exemption will be limited to raising the greater of CA$5 million or 10 percent of the issuer's market capitalization to a maximum total dollar amount of CA$10 million during any 12-month period.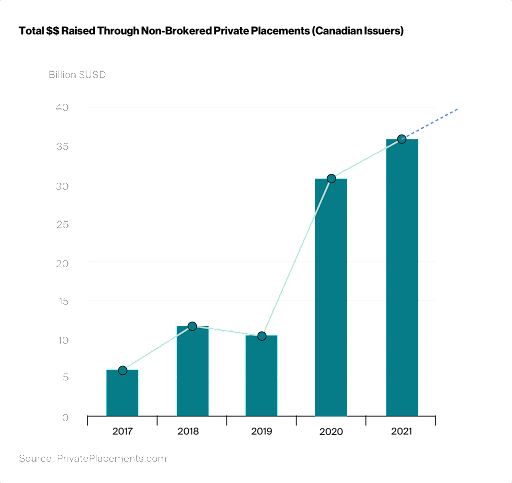 Given Canada has a high proportion of small cap public issuers, the Exemption has the potential to have a meaningful impact on the small cap capital raising landscape. Of the approximately 1,800 private placements issued by Toronto Stock Exchange (TSX) and TSX Venture Exchange (TSXV) issuers in 2021, over 80% of financings raised less than $10 million, with 90% of these raising $5 million or less (source: TMX Market Intelligence Group). Once subtracting for eligibility factors such as new listings and Capital Pool Companies, it is reasonable to assume a majority of these capital raises could have relied on the Exemption, at least in part.
The introduction of the Exemption comes following trends of increased retail investor participation and capital raised via private placements.
With information more readily available than ever before and numerous tools at their disposal, investors are choosing to invest in offerings on their own, giving rise to the prevalence of the retail investor. This trend was already in motion prior to 2020, but the COVID-19 pandemic shifted it into high gear. In January 2020, retail investors comprised 17.1 percent of the total US investing market. By November, Jeffries analyst Daniel Fannon said that number had risen to as much as 32 percent.
According to Privateplacements.com, total funds raised through non-brokered private placements in Canada, subscribed in part by accredited retail investors, climbed from just CA$11.75 billion in 2018 to CA$36.20 billion in 2021, an increase of over 208 percent
With current trends expected to prevail, the Exemption demonstrates progress toward bridging the gap between issuers and retail investors, while regulators continue to find a balance between the competing needs to raise money and investor protection.
Additional details on the proposed amendments and the Exemption can be found here.
TMX dealLINX
Private placements remain a powerful vehicle to fund growth. But the paperwork that is generated through the process can be overwhelming, issuers and their advisors are subjected to high levels of risk and waste far too much time correcting errors and tracking down payments.
TMX dealLINX can help public and private companies manage critical workflows, reduce administrative burden, increase efficiency, and mitigate risk when raising capital through non-brokered private placements. It is a powerful tool that provides an intuitive user experience in order to control expenses and manage key processes including distribution, collaboration, compliance, funding, and deal completion.

Learn more about TMX dealLINX here.
---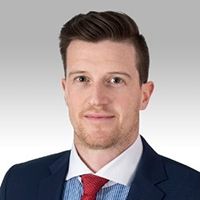 Director, TMX dealLINX
Follow Tim on
LinkedIn
---
Copyright © 2022 TSX Inc. All rights reserved. Do not copy, distribute, sell or modify this document without TSX Inc.'s prior written consent. The views, opinions and advice provided in this article reflect those of the individual author. This information is provided for information purposes only. Neither TMX Group Limited nor any of its affiliated companies guarantees the completeness of the information contained in this publication, and we are not responsible for any errors or omissions in or your use of, or reliance on, the information. This publication is not intended to provide legal, accounting, tax, investment, financial or other advice and should not be relied upon for such advice. The information provided is not an invitation to purchase securities listed on Toronto Stock Exchange and/or TSX Venture Exchange. TMX Group and its affiliated companies do not endorse or recommend any securities referenced in this publication. Groupe TMX, TMX, the TMX design, TMX Group, The Future is Yours to See., Toronto Stock Exchange, TSX, TSX Venture Exchange, TSXV and Voir le futur. Réaliser l'avenir. are the trademarks of TSX Inc. All other trademarks used in this document are the property of their respective owners.