TMX POV - Optimize your interactions when dark trading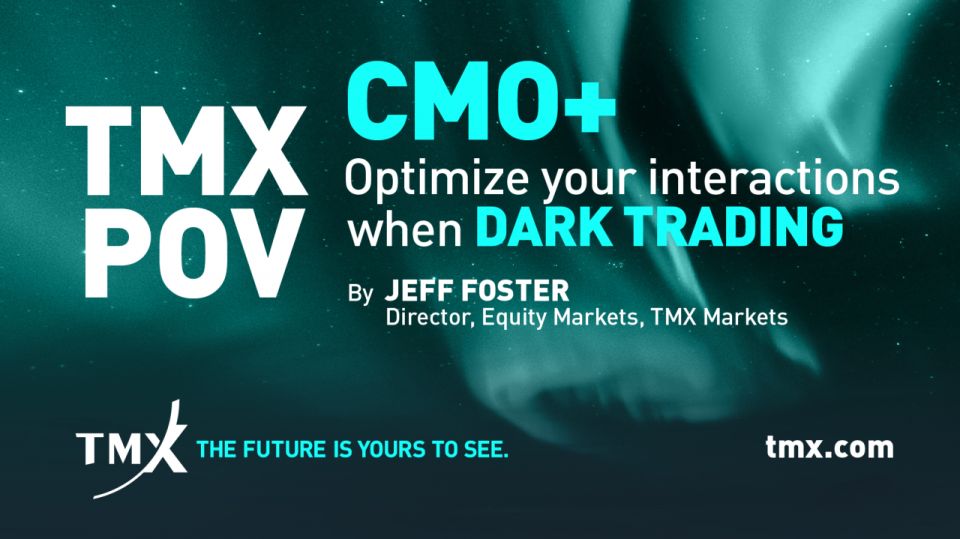 TSX DRK, Canada's leading alternative dark pool for trading Toronto Stock Exchange (TSX) and TSX Venture Exchange (TSXV) listed securities, recently introduced an innovative solution called Contra Midpoint Only Plus (CMO+) designed to deliver a higher level of protection for participants looking for a true mid-point execution.
Through the CMO+ functionality, TSX DRK aims to increase the value we bring to participants and long-term investors, providing access to a large pool of dark liquidity and a fair fill.
Why CMO+? Amid the complexities of multi-market venues, pricing information can be calculated at a slower rate than some of its own market participants. This may result in a venue executing trades at a stale price, giving the "faster" trading participants' orders an advantage at the expense of orders relying on the venue for accurate pricing.
CMO+ attempts to guard against this scenario by adopting a short delay to level the playing field and help assure a true mid point. And, it's innovation such as CMO+ that is driving improvements across Equity Markets on a global scale.
Did you know?
All CMO+ orders are delayed on entry by 400 to 600 milliseconds
Orders are protected against being picked off opportunistically as quotes change
Mid-point only with a focus on matching like minded long term investors
Dark Trading is evolving - Global exchanges may offer similar features with an eye on fairness but in Canada, CMO+ is an innovative offering. With global peers throughout Europe and the United States deploying comparable anti latency arbitrage mechanisms in an effort to improve execution, we met the needs of our clients with mid-point pricing protections offered through CMO+.
Today, TSX DRK provides a range of benefits for investors and it has gained traction in the Canadian marketplace:
98% TSX DRK volume received price improvements
90% TSX DRK volume executed at the midpoint or better
7.4 million average daily DRK volume
19% market share
As with our other TSX DRK offerings, CMO+ orders are able to reduce signaling and information leakage that can result in market impact through the use of Minimum Quantity (and Minimum Interaction Size conditions. Volume in CMO+ is growing as participants integrate dark pool offering into their workflows and multi-post algorithms.
I invite you to consider challenging the Canadian Dark status quo with an optimal price-improving dark strategy and the incorporation of CMO+.
---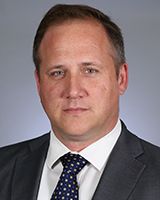 Director, Equity Markets, TMX Markets
Responsible for leading the Equity Markets sales strategy for the trading businesses of Canada's premier equity exchanges, Toronto Stock Exchange (TSX) and TSX Venture Exchange (TSXV), including TSX Alpha Exchange, adding more recently, mutual fund sales for the innovative NAVex platform.
Follow Jeff on
LinkedIn
---
©2019 TSX Inc. All rights reserved. This document is provided for informational purposes only. This document, and certain of the information contained in this document, is TSX Inc.'s proprietary information. Do not disclose, copy, distribute, sell or modify this document or any of its contents without TSX Inc.'s prior written consent. Neither TMX Group Limited nor any of its affiliates represents, warrants or guarantees the completeness or accuracy of the information contained in this document and they are not responsible for any errors or omissions in or your use of, or reliance on, the information. The information in this document is provided with the express condition, to which by making use thereof you expressly consent, that no liability shall be incurred by TMX Group Limited and/or any of its affiliates as a result of any errors or omissions herein or any use or reliance upon the information. The information provided in this document is not an invitation to purchase securities listed on TSX or TSXV. This document does not, nor should it be construed as, providing any trading, legal, accounting, tax, investment, business, financial or other advice, and you should not rely on it for such purposes. Professional advisors should be consulted. This document contains historical information, which may not be indicative of future events. This document also includes forward-looking information (including, but not limited to, the anticipated benefits of Dark trading and other dark strategies), which is subject to risks and uncertainties. All trademarks contained in this document are the property of their respective owners.