TMX POV - TSX/TSXV Issuers Rising to the Challenge in the Battle Against COVID-19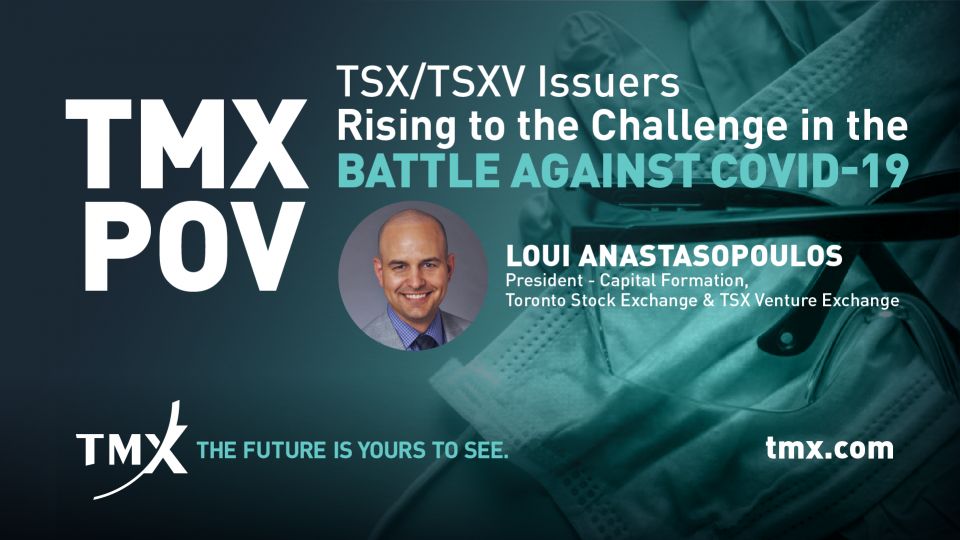 On behalf of all of us in TMX's Capital Formation division, I want to extend my sincere thanks to the Toronto Stock Exchange (TSX) and TSX Venture Exchange (TSXV) listed companies who have taken action to help our communities in the fight against the COVID-19 pandemic.
The economic, social, and health impacts of this pandemic honours no boundaries or borders. Businesses of all types, across all regions of the globe have been thrust into an unprecedented situation and forced to adjust to a new and unfamiliar environment for an indeterminate period of time. Canadian investors have also been hit hard, as valuations took a sharp downturn particularly during the first few weeks in late February and March, as severe volatility reigned over the global marketplace.
In the midst of this profound uncertainty, it has been inspiring to see how quickly Canadian companies have responded to lend crucially-needed assistance for those at most risk. So many have generously donated funds, products and resources to organizations serving on the front lines. And in keeping with our country's spirit of innovation and ingenuity, many businesses have taken a thoughtful and creative approach to contributing where help is needed most: pivoting operations to produce protective equipment and other essential items for healthcare workers, and extending support to displaced employees. Companies providing essential services and infrastructure have also taken important measures to ensure workers are fairly compensated and that Canadians have access to necessities during this crisis. Major retailers have implemented wage increases for employees serving the public on a daily basis and telecommunication companies are taking necessary measures to ensure we stay connected while working and living from home and during this pandemic.
TMX's ongoing commitment to the issuer community
TSX and TSXV are fully and firmly committed to serving the needs of our issuers throughout all market conditions, and especially, during times of crisis. Over the past few weeks, we have introduced relief measures and undertaken advocacy initiatives in support of our issuers, and we continue to work together with all of our stakeholders as the situation evolves.
I want to reiterate our pledge: TMX will never stop advocating on behalf of our listed issuer clients as we all work together to weather the COVID-19 crisis.
Public markets fuel progress. The capital formation process is critical in funding entrepreneurship and innovation while creating jobs for Canadians and fuelling this country's economic growth. We are not at a standstill. Businesses of all sizes across the country are up and running and working as hard as ever - to adapt to the evolving new 'business unusual' while preparing for a future still yet to clearly enter into focus. As recovery measures begin to take shape, we remain steadfast partners in helping to ensure the better days to come are as bright as possible.
Sincerely,
Loui Anastasopoulos, President, Capital Formation, TMX Group
Among the many examples of companies making an immediate and important positive impact:
----------------------------------------------
This article is provided for information purposes only, is not intended to provide any type of advice. This article is not an endorsement or recommendation of any securities or industry referenced herein. Views, comments or opinions expressed in this article are those of their respective contributors only, and are not necessarily endorsed by TMX Group Limited, any of its affiliates or their respective management or employees.