TMX POV - Election 2021: Sharpening Canada's Competitive Edge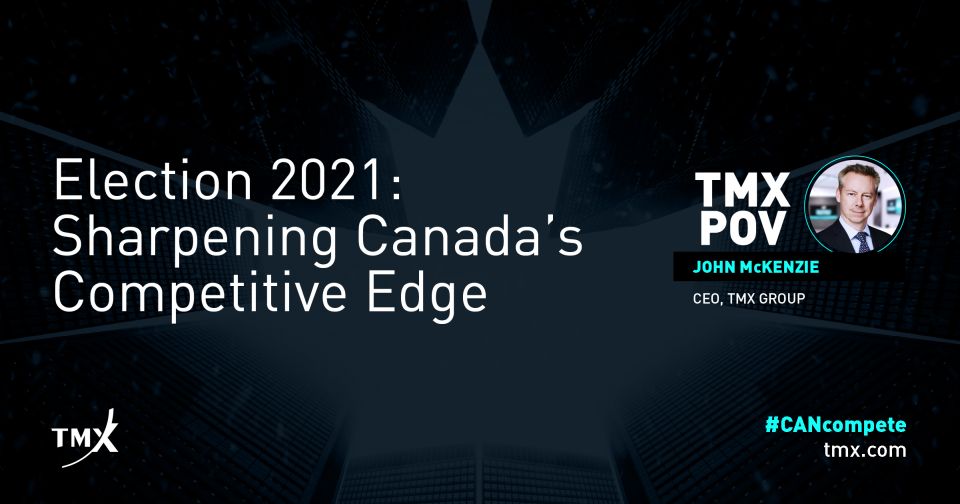 As the country prepares for the Federal Election on September 20, TMX Group calls on policymakers to put economic growth at the forefront of their plans.
Canadians from coast to coast, and representatives from across the public and private sector have worked together over the past 18-months to overcome the profound challenges caused by the COVID-19 pandemic. And even as we move through the recovery phases and closer to a post-pandemic world, the unfortunate reality is that uncertainty remains for several sectors of the economy. What's more, businesses face a new landscape with a broader range of risks, challenges and opportunities than ever before, including top priorities like sustainability and the advancement of equity, diversity and inclusion in today's workforce.
The Way Forward
Public spending measures introduced to combat the economic impact of the pandemic have resulted in an unprecedented deficit, and much of the national conversation is focused on providing the next government with a clear mandate to reshape the economy. In leading Canada back to fiscal stability, it is critical that we take measures to fortify Canada's ability to compete in the global economy. Over-reliance on taxation and other policies that put Canadian businesses at a competitive disadvantage relative to our international peers must be avoided, and governments must provide a comprehensive and balanced set of spending measures to encourage investment in our innovative, entrepreneurial companies.
Our Calls to Action
With our Calls to Action, TMX has identified significant opportunities for Canada to take impactful steps forward to ensure we remain globally competitive. We are seeking to champion change in industry and government decision-making to create an environment for companies, workers and investors to prosper through targeted public policy advocacy on the issues that matter.
We are calling on national policy makers to work with corporate Canada to develop long-term inclusive growth and competitiveness plans, including:
Call to Action #1: Make Canada an Even Better Place to Get Things Done
We need a simplified, equitable and supportive tax system to fuel Canada's economic recovery and future: No new taxes on business, and a commitment to overhaul our outdated and complex tax system and have among the lowest corporate tax rates in the G20
While deficits may be necessary in the short term, deficit spending should focus on promoting growth and attracting investment because we must first generate wealth in order to tax it.
Call to Action #2: Incentivise Investment in Canada
We need to establish clear incentives for Canadian entrepreneurs, workers and investors to share in the success of Canadian companies

Measures should include:



Allowing all Canadian growth-stage companies fair access to government support programs.
Creating a Canadian Investor Tax Credit to spur investment in Canadian companies and keep them globally competitive.
Expanding the use of flow-through shares to allow cleantech and other tech companies to build the economy of tomorrow.
Call to Action #3: Partner with Business on the Issues That Matter
Canadian governments and the businesses that drive our economy and employ our people have shared goals when it comes to Canada leading on the issues that matter, including bringing environmental, sustainability and governance (ESG) issues to life.
Over-regulation on these issues is not the answer; it hurts business growth and hampers Canada's international competitiveness. Instead, government needs to work with corporate Canada in a way that enables Canada to compete globally and helps Canadians from underrepresented groups succeed.
At this critical moment as our country continues to battle the pandemic with an eye to our future recovery, the next elected government will have a momentous and crucial task on its hands. While there are no easy answers, we hope that the focus remains on inclusive and sustainable growth and international competitiveness.
TMX and our community of clients, traders and investors are ready to help lead Canada's economic recovery in a way that leaves no one behind.
---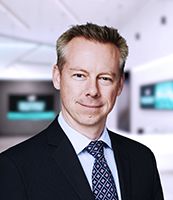 John McKenzie
Chief Executive Officer, TMX Group
Follow John on
LinkedIn
---
Copyright © 2021 TSX Inc. All rights reserved. Do not copy, distribute, sell or modify this article without TSX Inc.'s prior written consent. This information is provided for information purposes only. Neither TMX Group Limited nor any of its affiliated companies guarantees the completeness of the information contained in this article, and we are not responsible for any errors or omissions in or your use of, or reliance on, the information. This publication is not intended to provide legal, accounting, tax, investment, financial or other advice and should not be relied upon for such advice. The information provided is not an invitation to purchase securities listed on Toronto Stock Exchange and/or TSX Venture Exchange. TMX Group and its affiliated companies do not endorse or recommend any securities referenced in this publication. TMX, the TMX design, Toronto Stock Exchange, TSX, TSX Venture Exchange, TSXV, The Future is Yours to See. and Voir le futur. Réaliser l'avenir. are the trademarks of TSX Inc.
1 Two-thirds of Canada's public companies are SMEs, yet any public company regardless of size has limited or no access to many SME-targeted supports like Scientific Research & Experimental Development (SR&ED) credits and the Small Business Deduction.