TMX POV - TMX Group's John McKenzie and Trayport's Peter Conroy Moderate the 11th Annual Canadian Chief Economists Panel Debate
TMX POV - TMX Group's John McKenzie and Trayport's Peter Conroy Moderate the 11th Annual Canadian Chief Economists Panel Debate
January 11, 2021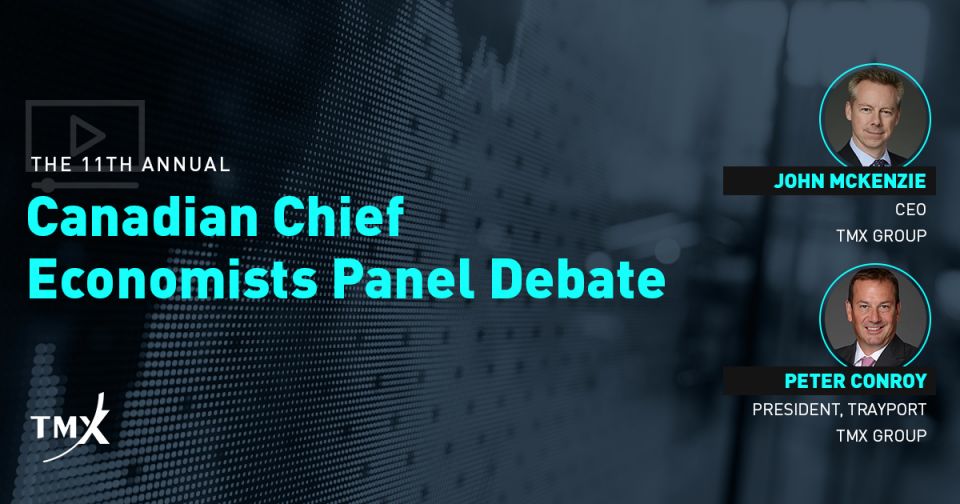 On November 25, 2020, John McKenzie, CEO, TMX Group and Peter Conroy, President of Trayport, TMX Group's London-based subsidiary, served as co-moderators for the 11th Annual Canadian Chief Economists Panel Debate, hosted by the Canada-UK Chamber of Commerce.
TMX Group was a proud sponsor and participant in the Chamber's 2020 signature event, which brings together top economists from Canada's six major banks to discuss issues of impact on a variety of topics, with a particular emphasis on North America. In the face of today's profound and unprecedented macroeconomic challenges caused by the COVID-19 pandemic, this year's discussion proved as relevant and topical as ever, despite the shift to a virtual format.

*The views, opinions and advice provided in the panel debate reflect those of the individual participants and presenters. The panel debate is not endorsed by TMX Group Limited or its affiliated companies. The video of the panel debate is provided for information purposes only. Neither TMX Group Limited nor any of its affiliated companies guarantees the completeness of the information contained in the video (which has been edited for distribution) and are not responsible for any errors or omissions in or your use of, or reliance on, the information in the video.